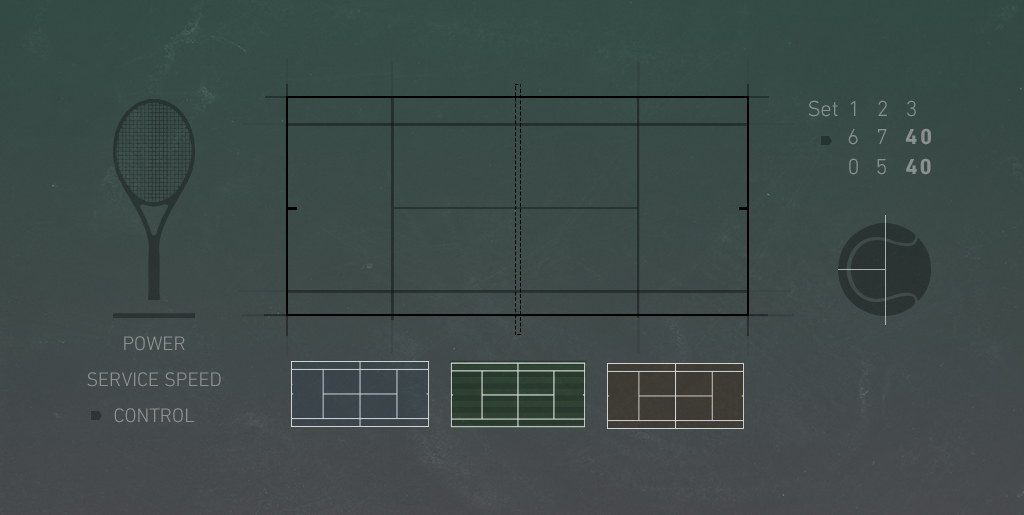 Tennis is a fast-paced, entertaining sport.
In order to learn how to bet on tennis, bettors must understand the rules of the sport as well how different styles of play and court surfaces can impact the result in tennis betting. Continue reading to learn how to bet on tennis.
Understand the rules of tennis and how to bet on it
How do differing surfaces impact tennis betting?
What markets are available in tennis betting?
Tennis betting – The rules of the sport
A development of "real tennis", the modern game of tennis was previously referred to as "lawn tennis". It is a racket and ball sport played on a rectangular court with a 1.07m high net across the middle – the dimensions of the court differ depending on the game format.
Played with either one person on either side of the net (singles) or two people on either side (doubles), the aim of tennis is to stop your opponent returning the ball to your side of the net to win a point – this is done by forcing them to hit the ball outside the lines of the court or into the net.
A single game is won by scoring four points (and at least two more than your opponent), with a "set" consisting of six games and a match consisting of three or five sets – men will play best-of-five sets at "Grand Slam" (major) events, all other professional matches (including women's) are best-of-three.
Players take it in turns to "serve" (start the point by hitting the ball into the opposite quadrant on the court) a game each. When a player wins a game on their serve it is referred to as a "hold" and when they win a game on the opposition's serve it is a "break."
How to bet on tennis – Factors to consider
There are numerous factors to consider when learning how to bet on tennis. Similarly to cricket betting, it is important to understand that different players will have different strengths and weaknesses and will be better suited to certain conditions.
Tennis is played on four main surfaces; clay, grass, hardcourt and carpet. Due to the speed at which both the ball and player can travel on these different surfaces, a player's level of performance can vary on different types of court – read more about the importance of court surfaces in tennis betting.
Tennis players will also have varying skill sets and more experienced tennis bettors will know how certain players play and what kind of player they prefer to play against. At a basic level, tennis players can be left-handed or right-handed and just like boxing betting (southpaw and orthodox) it is important to take this into consideration when betting on tennis.
A few examples of the different types of tennis players are; big-servers, baseline players, defensive players, all-rounders or players who prefer to play at the net. Using players' head-to-head records and combined hold/break percentage stats on a particular court can be a great way to inform your tennis betting.
Tennis betting – Tournaments and markets
In tennis, there are four major "Grand Slams" each year; Australian Open (hardcourt), French Open (clay), Wimbledon (grass) and the US Open (hardcourt).
Both women and men compete at the aforementioned Grand Slam events and then take part in ATP (Association of Tennis Professionals) and WTA (Women's Tennis Association) events throughout the year – these organisations are also used to rank tennis players.
There are various betting markets available at Pinnacle for Grand Slam events, ATP and WTA Tour events and many more – Challenger Tour, Davis Cup, Fed Cup and the Olympics to name but a few
Money Line
As is the case with basketball betting and NFL betting, the Money Line in tennis betting simply refers to who will win the match.
Handicap
A Handicap in tennis betting is when one player is given a number of games or sets as an advantage over their opponent to level the playing field. The bookmaker sets the Handicap figure and bettors can bet whether Player A will win with a + handicap advantage or whether Player B will make up their – handicap disadvantage and still win.
| Player | Handicap | Actual score | Handicap score | Win/Lose |
| --- | --- | --- | --- | --- |
| S. Wawrinka | -6 | 6-4, 6-3, 5-7, 6-4 (23-18) | 23-24 | Lose |
| B. Tomic | +6 | 4-6, 3-6, 7-5, 4-6 (18-23) | 24-23 | Win |
Total Games
The Total Games market in tennis is the equivalent to the Over/Under in soccer betting. The bookmaker will set a figure for how many games will be played before the match is decided and bettors can choose whether they think the number of games will be over or under that figure.
Outright
Outright markets, along with the Money Line, are perhaps the easiest type of market for novice tennis bettors to understand. An Outright market is offered on a tennis tournament and a bookmaker simply offers odds on individual players to win that tournament.
Source:@Pinnacle